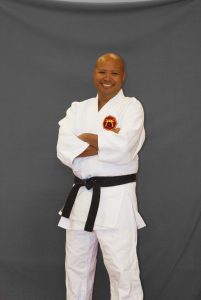 AC Dumaual Sensei has enjoyed teaching adult and children's karate classes since 1992 studying under Hanshi (9th degree) Phil Morgan in Indianapolis, Indiana. In his younger years, he actively competed in numerous of state and national tournaments in the categories of kata (forms), point sparring, and weapons and, at times, ranked as high as 3rd in the state in his division. AC moved to Dallas, Texas in 2011 and studied at the Okinawan Karate Club of Dallas (OKCD) under Kyoshi (7th degree) Ilene Smolger. AC currently holds a several black belts, one in Shorei-Goju Ryu (4th degree) and the others in Shobayashi Shorin Ryu Karate and Shudokhan Karate (1st degree). AC's recent move to San Diego has provided an exciting opportunity for him to start the Okinawan Karate Club of San Diego (OKCSD).
"I began karate training about thirty years ago, and have loved it from the start—karate helped me gain confidence and discipline, stay physically fit, and develop many lasting and deep friendships. I enjoy teaching karate as much as I enjoying practicing it, and my goal is to offer students a positive experience training in the martial arts as well." – AC Dumaual Sensei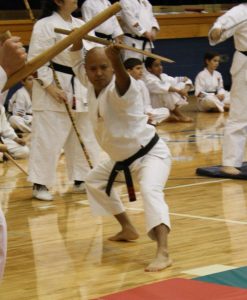 AC hails from the Midwest, born and raised in Indianapolis, Indiana. He received his undergraduate degree from University of Notre Dame, a Master's Degree in Science (M.S.) from Purdue University and his Doctorate (Ph.D.) from Indiana University majoring in Biophysics and Biochemistry. He recently moved from Dallas, Texas where he worked for the U.S. Environmental Protection Agency to San Diego where he now works for the U.S. Navy. When not training in karate, AC enjoys reading, trivia, computer games, Cuban salsa dancing (Rueda de Casino) and running.